A poke bowl is a great pick if you're looking for a tasty, healthy, and quick meal. Inspired by Hawaiian food, these bowls are a mix of fresh ingredients that you can change to fit your tastes. There's a poke bowl for everyone, whether you like fish, crunchy veggies, or different sauces.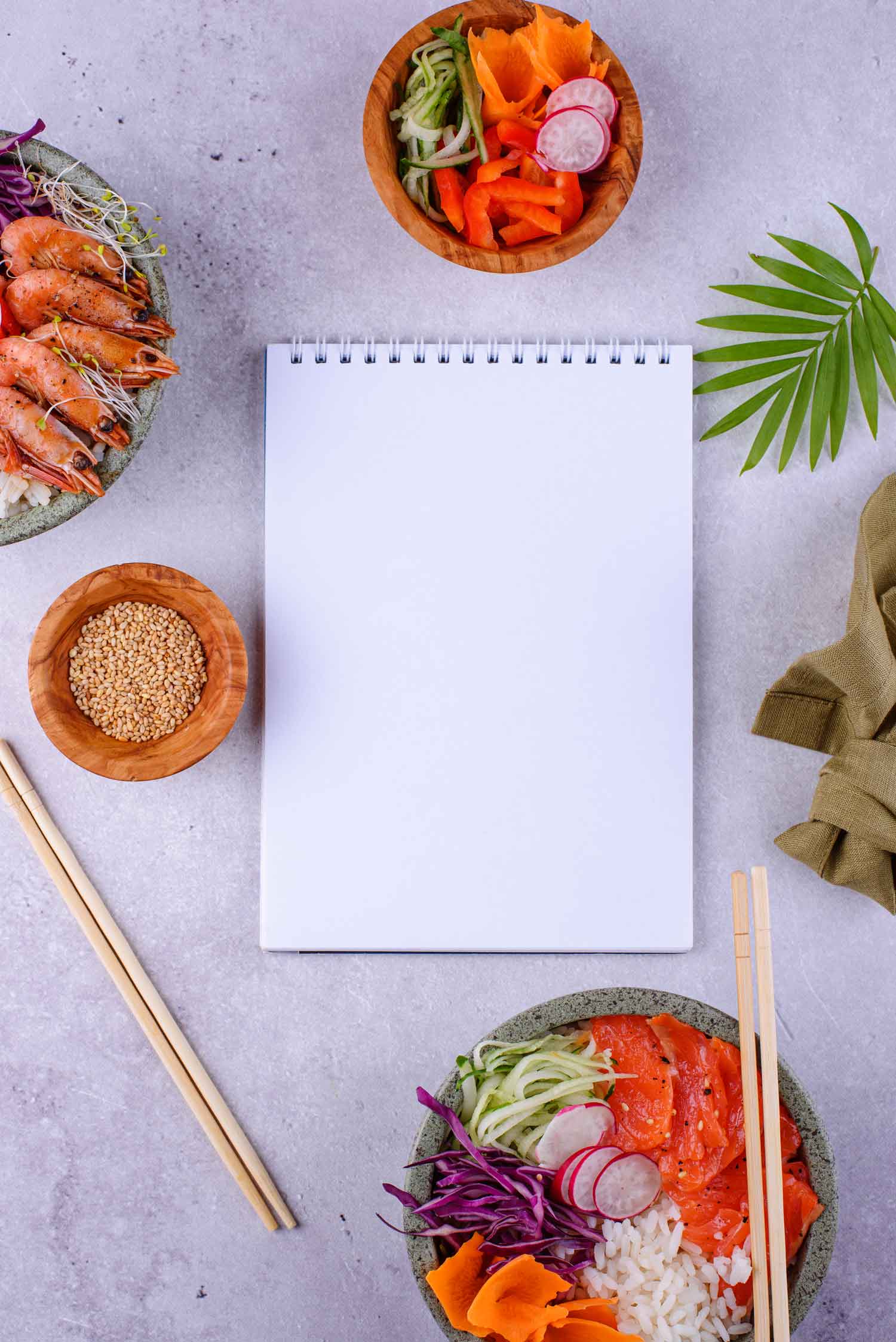 What's Usually in a Poke Bowl?
Most poke bowls start with chunks of raw fish like tuna or salmon. This fish is marinated in a sauce, usually made from soy sauce, sesame oil, and other tasty bits. The fish is then put on warm sushi rice and covered with toppings.
These include cucumbers, avocados, cilantro (a herb), and spicy jalapenos. Other common ingredients are seaweed salad, ginger, and masago (fish egg). But you can put anything you want in your poke bowl!
Making Your Poke Bowl Healthy
Poke bowls can be very good for you, providing a good mix of protein, fats, and fiber. The amount of calories they have can change, depending on what you choose for your bowl.
To keep your poke bowl healthy, go for proteins like tuna or salmon, add lots of veggies, and be careful not to use too much sauce. For those who don't eat meat, tofu is a great alternative that's also high in protein.
How Many Calories Are in a Poke Bowl?
Depending on your choice, a poke bowl can have anywhere from 400 to over 1000 calories. A basic poke bowl with a bit of tuna, some rice, and veggies is usually around 400-500 calories.
Adding things like creamy sauces, fried toppings, and extra protein can increase the calories quickly. If you're trying to eat fewer calories, use greens instead of rice, pick lean proteins, and use lighter sauces like ponzu.
What Sauces Should I Get On My Poke Bowl?
The sauce is a big part of what makes a poke bowl so tasty. Traditional Hawaiian dressings are made from soy sauce, sesame oil, and scallions. Ponzu sauce is also a great choice, which is citrusy and tart. Spicy miso or sriracha aioli can add heat for those who like spicy food. Other good options are gotchu sauce, a Korean hot sauce, and sesame ginger sauce.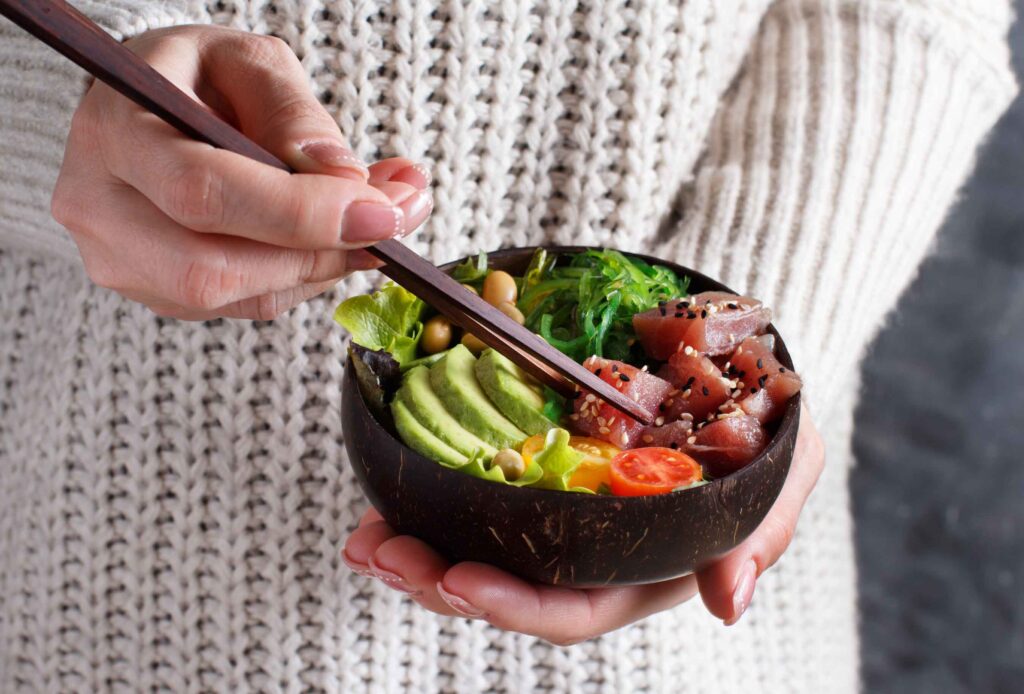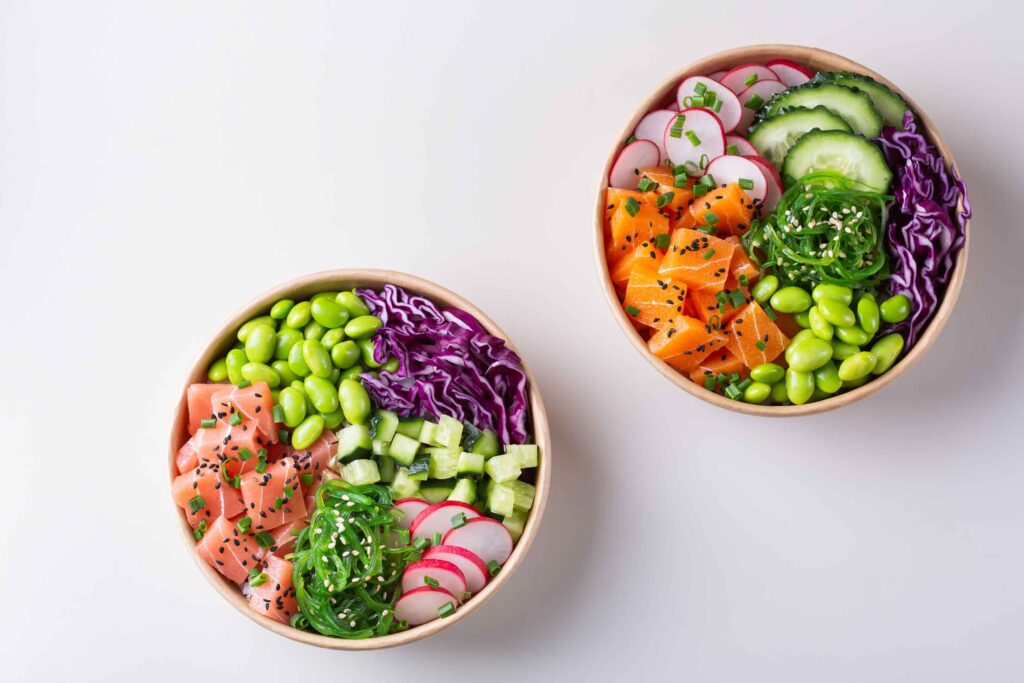 What Makes a Poke Bowl Crunchy?
Adding crunchy bits to your poke bowl makes it even more delicious. Common choices are crispy onions, garlic chips, and sesame seeds. Shredded nori (a type of seaweed) adds a seafood-like flavor, while sweet furikake, a Japanese seasoning, is another popular pick.
You can add rice puffs and tempura flakes for an extra crunch. Mix-ins like scallions, red onions, cilantro, cucumber, tomatoes, seaweed salad, mango, ginger, masago, jalapenos, and avocado add even more flavor.
What Kind of Protein Can I Use?
While poke bowls are traditionally made with raw fish, many other options exist. Tuna, negitoro (a type of fatty tuna), salmon, kani salad (a crab salad), shrimp, miso chicken, Korean BBQ pork, and chicken katsu are all great choices.
You can use inari tofu (sushi rice wrapped in sweet tofu skin) and organic tofu instead if you're vegetarian or vegan
Where's the Best Poke Bowl in NYC?
If you're in NYC and want to try a poke bowl, check out poke bowl NY. They only use the best and freshest ingredients to ensure their poke bowls are as tasty as possible. Plus, you can customize your bowl to fit your tastes. Whether you're a fan of traditional poke or want to try something new, poke bowl NY is a great choice.