Poke Bowl NY: Innovative Twists on Fresh Hawaiian Poke Bowl
Discover a fusion of New York's freshest ingredients and finest flavors at Poke Bowl NY. With 13 beautiful locations around the city, Poke Bowl NY brings the beloved Hawaiian dish to the bustling streets of New York.
Learn more about poke bowls and what makes them special!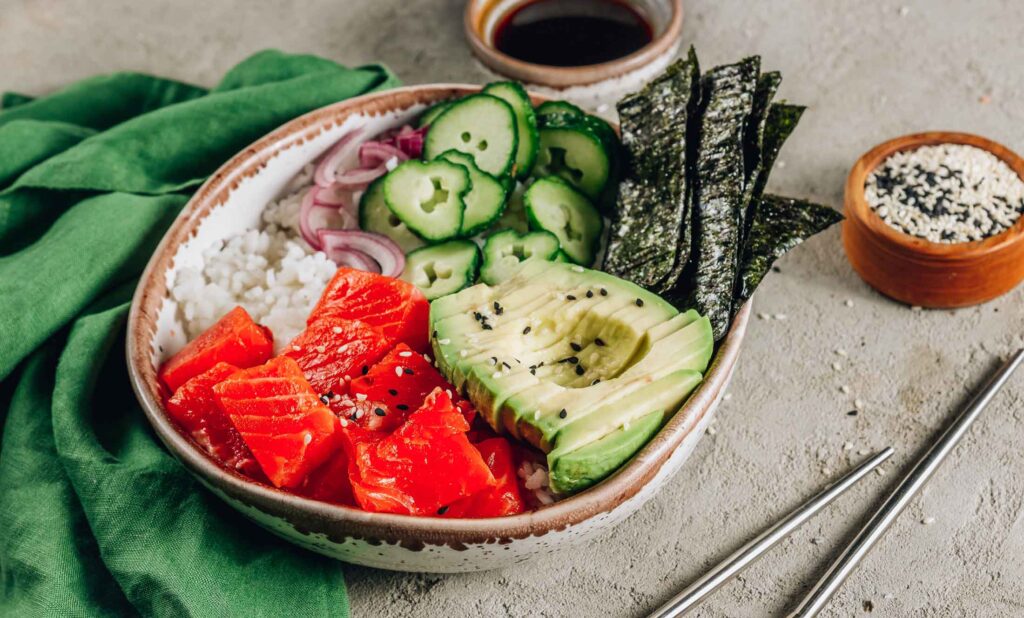 What is a Poke Bowl, and Where Does it Come From?
Known for their vibrant flavors and creative combinations, poke bowls have become a sensation in the culinary world. Although they have gained global popularity in recent years, poke bowls have been enjoyed by the people of Hawaii for centuries.
Originating from the practices of native Hawaiian fishermen, the word "poke" comes from the Hawaiian language, meaning "to slice" or "to cut," referring to the way the fish is prepared in small cubes. The dish traditionally consists of raw, marinated fish, mainly tuna or salmon, served over rice with simple garnishes like sea salt, seaweed, and limu (a type of brown algae).
From Classic Hawaiian Poke Bowl Combinations to Bold and Creative Flavors
With modern interpretations of authentic Hawaiian poke bowls, the dish has been adapted using different variations and ingredients. Chefs and food enthusiasts worldwide have embraced traditional Hawaiian poke bowls and added creative twists. This evolution has led to a dynamic spectrum of flavors and textures.
At Poke Bowl NY, we craft poke bowls that combine the best ingredients with creative flavors. Our menu showcases various colorful and nutritious options fully customizable to satisfy cravings and suit dietary preferences. From tender marinated fish to juicy grilled chicken, our protein selections are complemented by a wide range of vegetables, sauces, and popular toppings.
Beyond poke bowls, we offer other tasty options, like sushi burritos, poke tacos, and refreshing bubble teas. Whether you're looking for a quick lunch, a satisfying dinner, or a delicious snack, Poke Bowl NY has you covered!
Preparing Healthy Poke Bowls with the Finest Ingredients
Poke bowls are loved by people worldwide because they're easily transported and full of healthy ingredients. Perfect for busy office workers who need a quick and nutritious meal while on the go, these bowls are delicious, flavorful, and packed with essential nutrients to energize you throughout the day.
When crafting poke bowls, using premium ingredients is an essential part of creating a well-balanced and nutritious meal. Selecting high-quality proteins, like grade tuna or salmon, packed with vital nutrients like omega-3 fatty acids, is the foundation of a tasty poke bowl. Including fresh, crisp vegetables enhances flavor and adds more nutritional value. Combined with whole grains, like brown rice, a poke bowl becomes a well-rounded and balanced meal that fuels your body with essential goodness.
At Poke Bowl NY, we are passionate about creating poke bowls that leave a lasting impression. We believe that the key to achieving this lies in using superior ingredients. Sourcing the freshest and finest ingredients available, from prime cuts of salmon and tuna to colorful vegetables and flavorful toppings, every component of our poke bowls is carefully selected.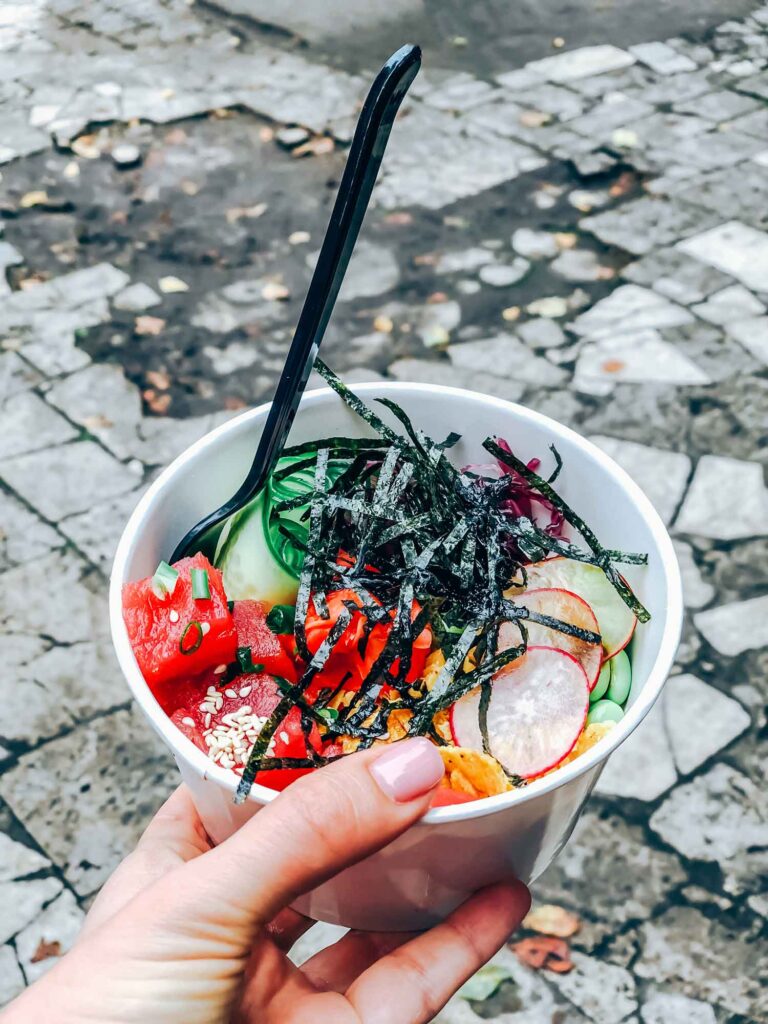 Irresistible Salmon Poke Bowls: A Fish Dish for the Soul
Salmon poke bowls are a popular dish with fresh salmon as the main ingredient. The salmon is typically marinated, adding flavor and tenderness. You can add various ingredients to complement the salmon, like fresh cucumber, green onions, and creamy avocado.
Seaweed is often included to add a touch of umami and texture. The combination of these elements creates a nutritious meal option. Salmon poke bowls are not only delicious but also provide a good source of protein, healthy fats, and essential nutrients. They are a favorite among seafood lovers and those seeking a wholesome meal.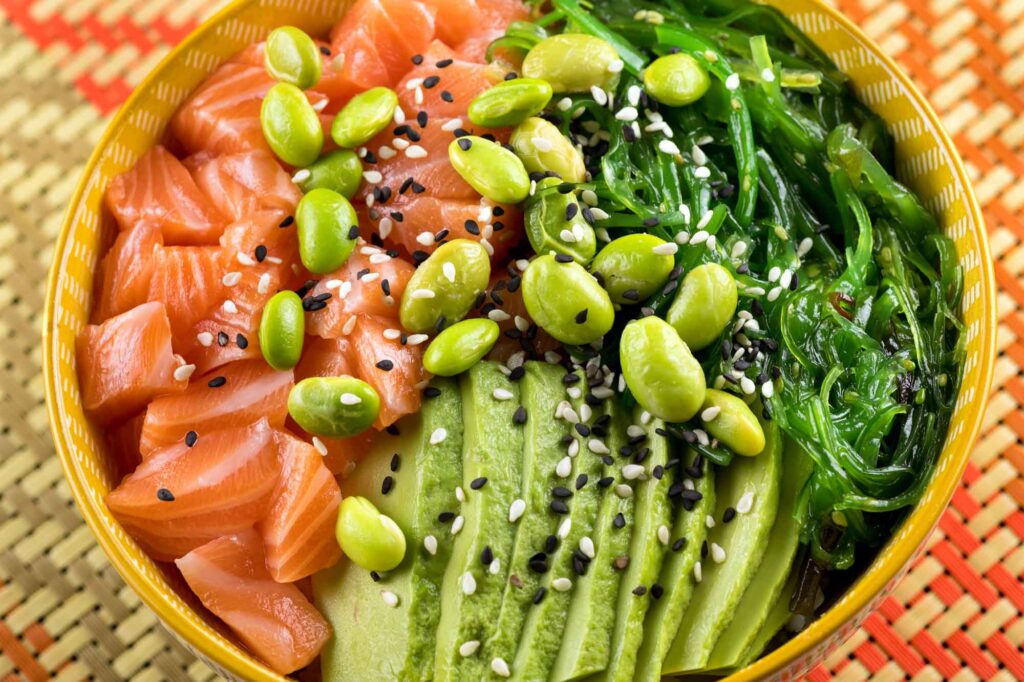 Satisfying Tuna Poke Bowls: A Taste Sensation
Tuna poke bowls offer a flavorsome dish featuring fresh tuna as one of the main ingredients. The tuna is marinated to enhance its flavor and texture. These bowls also include ingredients like shredded carrots, radishes, and edamame that complement the tuna.
Tuna poke bowls are a popular choice for their balance of flavors and nutritional benefits. They are a good source of protein, omega-3 fatty acids, and various vitamins and minerals. Whether enjoyed as a light lunch or a hearty dinner, tuna poke bowls are a versatile, nourishing meal option.
Elevating Your Poke Bowl Experience with Toppings
At Poke Bowl NY, we love the traditional garnishes that make poke bowls unique, but we also enjoy getting creative and exploring new flavors. With plenty of unconventional options, we offer a variety of toppings to take your poke bowl to the next level.
Picture succulent miso chicken, Korean BBQ pork for a touch of sweetness, edamame adding crunch, masago packed with salty goodness, jalapenos providing a spicy kick, or a drizzle of creamy Sriracha aioli for a fiery finish. These toppings with a twist unlock flavors and add depth and excitement to your poke bowl experience.
Find Your Next Poke Bowl Adventure in NYC
Poke Bowl NY is a haven for patrons in the vibrant city's food scene. We're known for our fresh bowls that blend tradition and innovation. With a focus on quality, customization, and customer satisfaction, we've become a top choice for poke bowl lovers!
Whether you're after the simplicity of traditional poke or the unforgettable flavors of our innovative creations, we have the perfect bowl to satisfy your cravings. Visit your nearest Poke Bowl NY location today or explore our catering options to bring the spirit of Hawaiian poke to your next event.
Discover why poke bowls have captured the hearts of food lovers worldwide and indulge in the fresh, vibrant flavors only Poke Bowl NY can deliver.